I've been meaning to try making chocolate babka for a couple years now. After putting it off for so long, and it being our last day of tech class today, I knew this was the push I needed. So yesterday I picked up some yeast and extra chocolate just in case and headed home to make the Bon Appetit Chocolate Babka recipe.
This was my first time using the dough hook on my electric mixer, but I followed the recipe dutifully and tried it. I wouldn't say it did the job super well and I might just knead by hand next time. But on further reading I also found out you don't want to over knead babka dough either, so maybe the light touch of the dough hook was the right call. I found the dough VERY sticky though, and when I turned it out to knead by hand it was impossible to work with without incoporating a lot more flour. So I ended up adding an unknown amount of extra flour, the dough was still sticky but workable. Then I proved it for 2 hours, and chilled for a 1.5 hours (dinner time with the kids got in the way). I wish I had buttered the bowl even more than I did, because I had some sticking, and next time I will put the plastic wrap cover directly on the dough to stop a skin from forming.
When I got back to the babka, punching the air out and rolling it to 22″ by 12″ went fairly smoothly. As did melting and spreading the chocolate. I think I should have pulled it tighter when I rolled it up though because it ended up so think I had trouble getting the right number of twists. So there were only 3 twists as opposed to 5. I left it to prove again while I made the streusel topping. I baked it for 50 mins, but it came out of the oven quite dark. My oven usually runs cold so this was a bit of a suprise but oh well!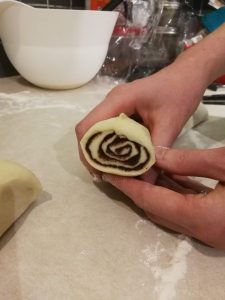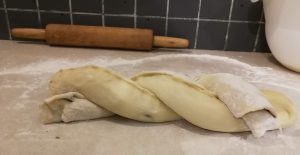 I took the babka into our class today to share, and when I sliced it up the inside looked perfect! It had a nice fluffy texture and people seemed to like it overall. I guess sweet chocolate bread is always going to be appreciated but I was a bit skeptical on how it would actually taste.
Aside from the babka taking MUCH longer to prepare and prove than I was expecting (and the timing being exactly the opposite from what was going on with my family and dinner and chaos), it was not too taxing to make and it was super delicious. I'll try it again, and add more streusal topping for sure!