I went to the Nellie McClung Library a couple weeks ago to get some books for my Literacy learning plan. Since I was by myself, I stopped by the cookbook section to see what the selection was (last time I tried to do this I had two wild kids with me and abandoned all hope of trying to get an idea of what was there). This is the Middle Eastern cuisine section at this branch:
They were all super inspiring and delicious to look at. It was hard to decide what to get! I ended up selecting Levant by Rawia Bishara, a Palestinian-American chef who opened the restaurant Tanoreen in Brooklyn in 1998, and Honey & Co. by Itamar Srulovich and Sarit Packer, two Israeli chefs who opened a restaurant with the same name as their book in 2012.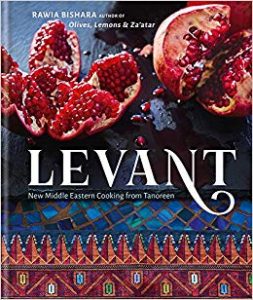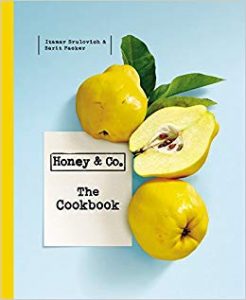 One of the things that jumped out of Levant was several recipes for "Kibbie". I didn't know what this was, but it is a dominant thread through the book. Turns out it's the national dish of many middle eastern countries, and is traditionally a mix of lamb and bulgur wheat that is baked, fried, grilled, eaten raw or covers in sauce or broth. Kibbie has now expanded to also use chicken, fish or vegetables too. The spices use are generally allspice, coriander and cloves. In this one cookbook, she provides recipes for baked pumpkin kibbie,  baked chicken kibbie, baked fish kibbie, with leg of lamb eaten raw, as kibbie cups with eggplant hash or grilled corn, with potatoes in lentil stew, and an Aleppo-style kibbie stew with carrots. It really sounds like I need to try this!
SInce it was the end of term and things were crazy I didn't get a chance to make any thing from Levant yet, but I just renewed the book on my account so hopefully sometime in December I will get there! It's a gorgeous book and the recipes seem like they will really push me further into authentic middle eastern cuisine.
Honey & Co. is also mouth watering to look through. Not quite as decadent looking at Levant, but the recipes also seem a little simpler and approachable. Lots of recipes for pickled foods and fish which is exciting. The book feels very personal for the authors. It's filled with stories of their life together (they are married), and the process of moving to London and slowly becoming the restauranteurs they are today. You can tell that their restaurant is truly their baby and their staff and customers are like family. They have another cookbook called Honey & Co. at Home that I would like to check out some day. I made a chicken recipe from this cookbook that I will post about shortly.