My husband gave me a bottle of rose water two Christmases ago (Cortas brand), but I was a little nervous to use it since I know it can be overpowering if you use too much (thank you for the info Great British Bake Off). But I know it is a traditional flavour used in middle eastern cooking, particularly in baking and desserts. So this weekend I decided to go for it.
What it's all about 
Rose water is the liquid left over when rose petals, buds and stems are distilled. It's used in food, cosmetics and perfume in many Middle East countries. It adds a floral flavour that makes these dishes very unique. Common dishes include: baklava, kanafeh, and many biscuits and puddings.
I wanted to make cookies, and found this recipe for Lebanese butter cookies, or ghraybeh. First I had to make clarified butter which was also new for me. Luckily its basically just melting butter and skimming off the milk fats.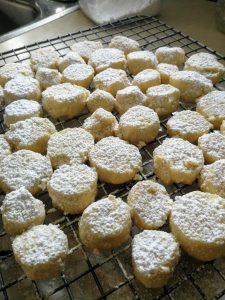 I followed the recipe above for the cookies but I found my dough turned out quite dry. Maybe I measured either the butter or the flour not quite correctly but who knows. The dough still came together but I found it hard to work with and then couldn't cut the cookies to the right shape. It's basically a shortbread recipe with clarified butter and a floral hint. The recipe was originally written for orange blossom water, but in the comments the author said you could use few drops of rose water instead. They baked up nicely and looked nice once I sprinkled the icing sugar on top. I do think I could have gone heavier with the rose water, the floral hint is so light it's barely there. I do like them though and will try them again soon.