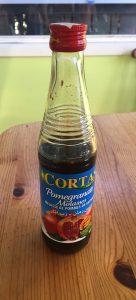 Pomegranate molasses is a thick syrup made by reducing pomegranate juice. It becomes a sweet, tart and tangy syrup. (It's not actually molasses at all). It is regularly used in middle eastern cooking, particularly in Iran, Turkey and Lebanon. I bought the Cortas brand again, which it turns out was recommended here. It can be used in many different ways – marinades, salad dressings, even in cocktails when mixed properly.
After looking through the Zaitoun cookbook (on cloudLibrary of course!), a recipe that caught my eye for a relatively simple weeknight meal was Lentil, eggplant and pomegranate stew. I made it tonight (with some characteristics omissions). I swear that before I got groceries on the weekend, I checked and I had brown lentils, but when it came time to cook, I could only find red. And somehow I completely forgot to buy sumac (another ingredient on my flavours to explore list). So anyway, red lentils and no sumac, I forged ahead.
The recipe was pretty simple: lentils, spices, eggplant, pomegranate molasses, shallots and garlic. Served with basmati rice. For a simple meal, it really packed a punch. Pomegranate molasses has a really complex flavour which came through well in this dish. I added extra to my bowl to play around with the flavours more too. It's a very tangy, sweet and rich flavour overall. The combination with the smooth flavours of the shallots and eggplant balanced perfectly. My 1 year old liked it too, but my three year old stuck with her macaroni.
My photo of this really did not turn out well (note to self, learn to take better food photos). Here is what I'm going to pretend mine looked like:
In researching pomegranate molasses, I have also found this recipe for pomegranate glazed chicken from Bon appetit which I now want to try next!
Top photo from here